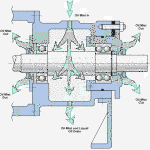 Oil mist systems are incredibly simple and orders of magnitude more dependable than traditional oil application methods. Still, the practice of allowing excess oil mist to escape into the atmosphere has come under scrutiny. As a result, it is time to revisit closed systems that avoid polluting the air. Some closed systems have been in highly successful service since the mid-1980s and unquestionably represent best available technology. While the purpose of this article is to provide you with a relevant experience update on closed oil mist systems, we wish to …
See the original post:  
Is Closed Oil Mist Lubrication the Best Available Technology?