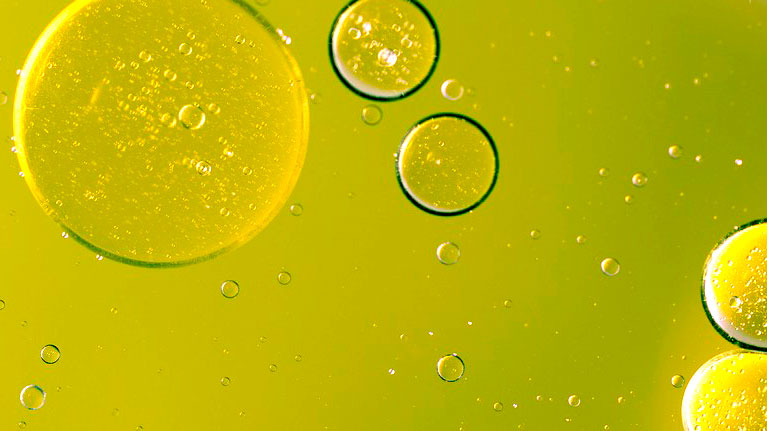 Obtaining the HTF fluid sample
In order to make the most accurate diagnosis, it is essential to obtain a fluid sample as reliable and representative as possible.
Therefore, when taking a sample of HTF high-temperature heat transfer fluid, care must be taken: primarily it must be taken into account whether the sample is taken during the day or at night and also ensure that outside contamination sources are not introduced into the sample.
Where can the HTF fluid samples be taken from?
It is advisable to have a specific area for sampling. In this area, a collecting area of the initial purging fluid (bucket or similar) is needed, or on its recirculation into the system.
Also, a stainless steel or other suitable material coil device is required for the sample to cool to safety temperature (around 40°C) before filling the container with the sample.
In addition to safety issues (hot fluid splash, explosion), also try to avoid the evaporation of volatile products in the fluid so as not to lose valuable information.
What is the most suitable area for sampling?
The most suitable area from which to take the sample is the main fluid circuit, although it can also be installed in other points considered critical in the plant.
Where to put the sampling point must also be evaluated: before filters, after filters, between the pump and filter, etc., since the information obtained varies depending on the location.
Sampling kit for high temperature HTF
To analyse the sample, about 200 millilitres of fluid from the point chosen for sampling is required.
The container used must be chemically stable and unbreakable. An aluminium container or amber vial with safety cap is normally used.
Lubrication Management has a typical sampling kit which includes an aluminium container and an amber vial, the sample label and accessories for taking the sample.
Finally, the sample data sheet must be correctly completed and sent to the lab for analysis in sufficiently robust packaging that will not break in transit.